NEW DELHI: Lufthansa will bring back the double decker Airbus A380 on the Delhi route along with first class service, to celebrate six decades of connecting the Indian capital with Germany. The German mega carrier has been flying to India for much longer, including doing so to Jodhpur in 1934 with a
JU52
.
What is now about eight-hour Delhi-Germany nonstop, had begun on September 1, 1963, when a Boeing 720 operated from Frankfurt to the Indian capital with stopovers in Rome, Cairo, Kuwait and Karachi. This was the first connection between Delhi and Germany. Lufthansa Group Senior Vice President Global Markets & Stations, Frank Naeve also announced the return of the A380 and first class service to Delhi to mark 60 years of flying to the capital.
"An early believer in Indian's growth story, Lufthansa has maintained strong ties for six decades, contributing to the expansion and enhancement of the growing economic, social & cultures ties between the two nations.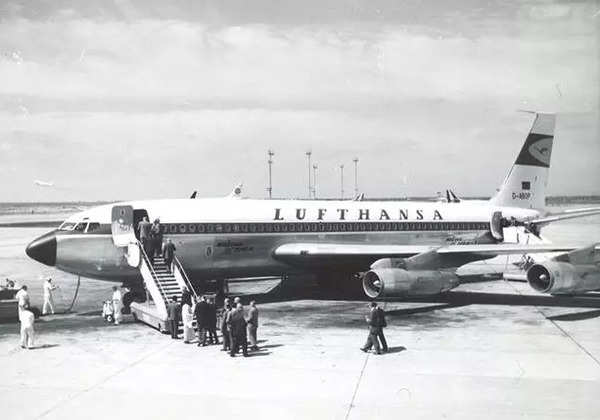 While the world has changed significantly over the past 60 years, the relationship between these two nations has blossomed thanks to the deep connections established between Germany and India," Lufthansa said in a statement.
"Delhi was a very different place six decades ago and today is the capital of the most populous country on the planet, the highest GDP growth rate in APAC and the third largest aviation market in the world. Thanks to globalisation, interdependence and global trade, modern Germany and India are economic powerhouses who collectively represent two of the five largest economies on the planet," it added.
Lufthansa Group, which today has over 1,000 staff in country, has announced 64 weekly frequencies to India. "India was also one of the first intercontinental markets to surpass pre-pandemic levels with new routes announced including Bengaluru-Munich and Hyderabad-Frankfurt. Returning the A380 and reintroducing first class to Delhi are natural extensions of its strong ties to India. As one of the first to believe in India's growth story, Lufthansa remains committed to India and looks forward to another 60 years of deepening partnerships and growth."