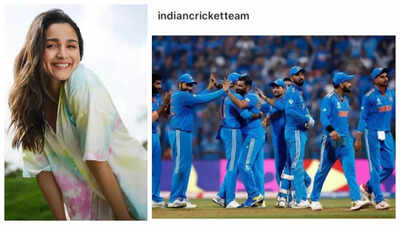 Alia Bhatt praised Team India's performance in the World Cup semi-finals and congratulated them on reaching the finals. She highlighted Virat Kohli's unstoppable form and Mohammad Shami's contribution to the team's victory. Alia's husband, Ranbir Kapoor, attended the match as part of the promotional activities for his upcoming film. In a recent interview, Alia addressed the online characterization of Ranbir as 'toxic' and defended him, stating that he is the opposite of what is portrayed.
Alia Bhatt joined the bandwagon of celebrities who showered praise on team India's performance at the World Cup semi-finals on Wednesday. India won against New Zealand in a match held at Wankhede stadium in Mumbai.
Check out her post here: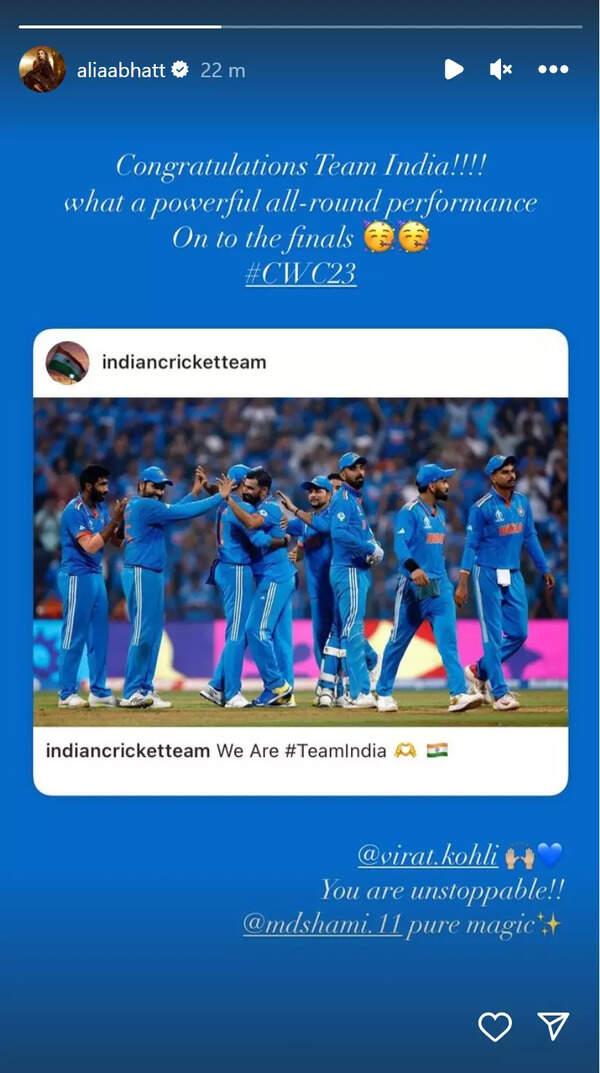 Sharing a photo of team India celebrating, Alia wrote, '"Congratulations Team India!!!! what a powerful all-round performance.
On to the finals. #CWC23′. She also further added, '@virat.kohli you are unstoppable!! @mdshami.11 pure magic'.
While Virat Kohli broke Sachin Tendulkar's record by scoring his 50th ODI century,
Mohammad Shami
greatly contributed to the team's win by taking seven wickets.
Alia Bhatt finally reacts to fans calling Ranbir Kapoor 'toxic' because of his 'wipe it off' remark: 'He is genuinely opposite of that…'
Although Alia Bhatt was absent from the Wankhede Stadium, her husband, Ranbir Kapoor, attended the semi-finals and experienced India's historic victory firsthand. His presence at the event was also part of the promotional activities for his upcoming film, 'Animal'.
During her appearance on Koffee with Karan 8 alongside her sister-in-law Kareena Kapoor Khan, Alia Bhatt addressed the online characterization of her partner, Ranbir Kapoor, as 'toxic' and a 'red flag.' In the conversation with
Karan Johar, Alia countered these perceptions, asserting that Ranbir is quite the opposite of the image portrayed by the internet.
When asked to share her thoughts about the controversy, Alia said, "I have a very candid way of speaking so even when I'm talking about anything in my life, I like to imitate the person that I'm talking about, I like to give anecdotes, I like to make it personal. I feel like a lot of things just get picked out of context which happened recently."
"My team told me, 'This is going a little out of hand.' And I was like, 'It's okay, let it be.' because genuinely, people say things all the time. But then I realised that there are serious articles talking about how he's a toxic man and this and that. And I'm like, 'Are we serious?' There are many issues in the world to talk about and give more attention towards than talking about something I said in a completely different context. I think the only reason I felt bad, or feel bad is that if people misunderstand, is because he's genuinely the opposite of all of that," Alia added. Karan and Kareena agreed.