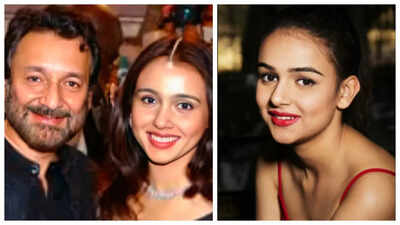 Kaveri Kapur, daughter of Shekhar Kapur and Suchitra Krishnamoorthi, is reportedly set to make her acting debut in a major Bollywood production. The budding actress, who is already an acclaimed singer and songwriter, has undergone training in both acting and singing. She is currently honing her musical expertise at the Berklee School of Music in Boston. Kaveri has garnered attention from major Indian production houses.
Shekhar Kapur and
Suchitra Krishnamoorthi
's daughter
Kaveri Kapur
has already made her mark in the industry as a singer and songwriter. Now, reports are rife that she is all set to venture into the world of acting.
Having undergone meticulous training in both acting and singing, the budding actress has become a topic of considerable interest among industry insiders.
There are talks of her being approached for a significant role in an upcoming majorBollywood production.
Amid the veil of secrecy surrounding her plans, a report in News18 suggested that the aspiring artist is keen on continuing her father's esteemed legacy. Adept as both a singer-songwriter and a collaborator with leading global producers, she is presently honing her musical expertise at the Berklee School of Music in Boston. Her industry standing is underscored by ongoing collaborations with acclaimed producers worldwide. With an impressive portfolio, she has reportedly garnered the attention of major Indian production houses, hinting at a forthcoming debut in the flourishing realm of Indian cinema.
Suchitra Krishnamoorthi accuses ex-husband Shekhar Kapur of infidelity, says she hasn't forgiven Preity Zinta yet
The report also added that Kaveri has been in discussions for a significant role that could serve as her launchpad in the fiercely competitive realm of Hindi cinema. She has been attending workshops and heavily prepping for her character. It also stated that a big film announcement is underway.
Earlier, in an interview with Bollywood Thikana, Suchitra had opened up about co-parenting Kaveri with her ex-husband Shekhar. She shared that they are still parenting their child together. They are parents to a daughter and that relationship will always be there. According to her, Shekhar is a very good and committed father and her daughter is closer to him than she is to her.
Suchitra also added that Kaveri is very affected by what happened between her and Shekhar. She concluded by saying that single parenting is very tough. According to her, it takes up a lot of one's time and energy. Her head was filled with worry and concern all the time.