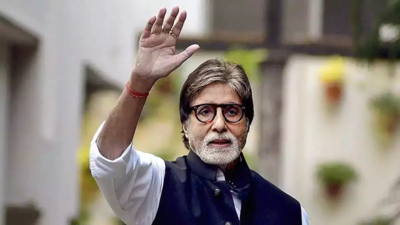 In a thrilling encounter during the World Cup 1st Semi-Final, India emerged victorious over New Zealand. India posted an impressive score of 397/4, and despite New Zealand's resilient effort with a total of 327, India secured a 70-run win, securing their spot in the World Cup final. India delivered a dominating performance, securing a convincing 70-run victory over New Zealand to advance to the final of the ICC Men's ODI World Cup
After Amitabh Bachchan's revelation that the Indian cricket team consistently emerges victorious when he refrains from watching their matches, warnings have surfaced on social media. Moments after
Team India
's triumph over New Zealand in the ICC World Cup semi-final on Wednesday, Amitabh shared on his official social media account: "Whenever I'm not watching, we secure the victory!"
After Amitabh Bachchan's post gained widespread attention, social media users expressed caution, advising him against tuning in to the upcoming ICC World Cup final match on Sunday.
One user urged, "Sir, please refrain from watching the final match." Another individual advised, "Bachchan sahab, it's better to stay indoors." Yet another user suggested a lighthearted solution, commenting in Hindi, "Let's arrange to keep him secluded on a remote island on the day of the World Cup final."
India beat New Zealand to enter World Cup final: Amitabh Bachchan, Ajay Devgn celebrate victory; Virat Kohli's video goes viral
In a thrilling encounter during the World Cup 1st Semi-Final, India emerged victorious over New Zealand. India posted an impressive score of 397/4, and despite New Zealand's resilient effort with a total of 327, India secured a 70-run win, securing their spot in the World Cup final.
India delivered a dominating performance, securing a convincing 70-run victory over New Zealand to advance to the final of the ICC Men's ODI World Cup. The team batting first posted an imposing total of 397/4 in 50 overs, while successfully restricting New Zealand to 327 in 48.5 overs. India's impressive win now sets the stage for a final showdown, where they will face either South Africa or
Australia
.