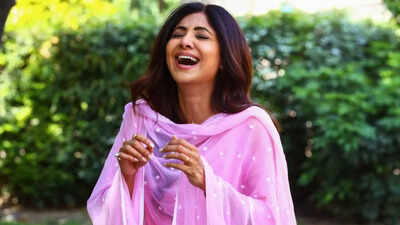 "Sukhee" unfolds the narrative of its protagonist, Sukhee, a homemaker daring to break free from her mundane routine by embarking on a journey to Delhi for a joyous rendezvous with friends. While the film exudes a lively and humorous atmosphere, it subtly delves into more profound themes. Through its dialogues, "Sukhee" subtly addresses issues such as patriarchy and women's empowerment
Shilpa Shetty takes center stage in the newly released slice-of-life comedy film "
Sukhee
," showcasing her talent as the main lead. The much-anticipated movie is now available for streaming on an OTT platform, providing audiences with a delightful dose of humor and relatable moments. Shilpa Shetty's performance adds a captivating touch to the film, making it a must-watch for those seeking an entertaining and light-hearted cinematic experience.
Following a two-month run in theaters, Shilpa Shetty's starring vehicle, "Sukhee," has now made its much-anticipated debut on OTT.
The announcement of the film's release was made through the platform's official Instagram handle, keeping fans and followers in the loop about this exciting development. As of today, audiences can enjoy the film's charm and humor from the comfort of their homes.
Shilpa Shetty Kundra's Instagram posts from Maldives might ignite your wanderlust!
"Sukhee" unfolds the narrative of its protagonist, Sukhee, a homemaker daring to break free from her mundane routine by embarking on a journey to Delhi for a joyous rendezvous with friends. While the film exudes a lively and humorous atmosphere, it subtly delves into more profound themes. Through its dialogues, "Sukhee" subtly addresses issues such as patriarchy and women's empowerment. The storyline sheds light on the societal expectations that frequently constrain women, compelling them to prioritize family responsibilities at the expense of pursuing their own dreams and aspirations.
Directed by
Sonal Joshi
and co-written by a talented team comprising Radhika Anand, Paulomi Dutta, and
Rupinder Inderjit
, "Sukhee" boasts a diverse cast featuring the renowned Shilpa Shetty, along with social media influencers
Kusha Kapila
, Amit Sadh, Chaitannya Choudhury, Dilnaz Irani, Pavleen Gujral, Kiran Kumar, and Vinod Nagpal.
The film made its theatrical debut on September 22, offering audiences a unique blend of talent from various spheres. Shilpa Shetty, the lead in "Sukhee," had previously graced the screen in the 2022 action-comedy "Nikamma," co-starring Abhimanyu Dassani and
Shirley Setia
. Unfortunately, "Nikamma" faced criticism and underperformed at the box office. Despite this setback, Shilpa Shetty continues to explore diverse roles and is set to make an appearance in the upcoming Kannada action film "KD – The Devil," directed by Prem.